Random thoughts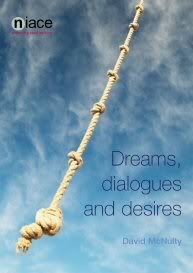 With one project down, I have a few more to go. Please dun ask me to count as I just want to put it at the back of my mind. At least for now.
I was just thinking the other day about what other things would I be doing now if I haven't deceided that I want to study. That is when I realise that it would only be working. Boring~~
Most of my good pals are 'working-class' now. Most of them envy me because they rather be in school. I envy them because they seemed more carefree than I am.
Building castles in the air used to be my favourite pastime. Now that I am engulfed by schoolwork, it is almost impossible for me to do so. So today, I decided that instead of spending time doing research in the library, I blogged and dreamt about life.
I realise I dun really know what I want in life. I almost have no direction whatsoever.
After 'O's, i debated whether to go Poly or JC and finally decided to Poly instead as I have heard how much fun it would be.
Before admission,I thought about what course to take in poly for almost as long as I am allowed to before the deadline. Hospitality or Tourism or Biomedical or Business. I choose business in the end because i thought it is less specalised and easier to find a job.
Come Poly year 1 end, I am suppose to choose my so called major. Business was too general and logistics & operations management was too mathematical so I choose marketing – just crap your way through I thought.
Then after poly, I wondered where to go next. While surfing the net one day, i stumbled upon the NTU and NUS website and realise that they are opened for registration. I decided to register for fun. $15 isn't that unaffordable. Communication studies was my 1st choice for NTU because I heard it's quite a popular course with small intake and wanted to try my luck. Arts and social sciences for NUS for no apparent reason. Just wanted to fill in the fields to make my $15 worth.
And I got in. Now, I dunno what I'm doing here. Communciation studies isn't something that I thought I would ever do. Oh well.. I just run through the 4 years and see what the future may be for me.
See? No direction at all.
I want to be everything.. I want to experience all sort of things.
Probably I'll just be a jack of all trades and master of none.
I dun care…
As long as I know I am happy, my family's contented and my friends hang out with me.
Come on life! Show me who you are!